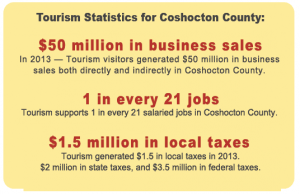 In 2013 – Tourism visitors generated $50 million in business sales both directly and indirectly in Coshocton County. Tourism supports 4.8% of salaried jobs in Coshocton County. Tourism generated $1.5 million in local taxes in 2013 — $2 million in state taxes, and $3 million in federal taxes.
Sports & Outdoors
Coshocton County offers a range of activities that will satisfy thrill seekers and those are just wanting to relax and enjoy the great outdoors. Whether you are looking to hike, bike, geocache, swim, golf, fish or hunt, Coshocton has many activities available for the entire family.
Gardens & Hiking Trails
Coshocton is blessed to have the largest amount outdoor recreation land in Ohio. Breathe deeply the smell of the earth, leaves and flowers in our many public wooded hiking areas. You'll hear a sound you may not be accustomed to—QUIET! This silence will allow you to hear the songs of the birds, the chattering of the chipmunks, and the scurrying of the squirrels. Reconnecting with your family and friends is much easier in the beauty and quiet of nature.
Clary Gardens
588 W. Chestnut Street
Coshocton, Ohio 43812
740-622-6524
www.ClaryGardens.org
This botanical garden offers 20 acres of rolling hills, woodland trail with sandstone outcroppings, springhouse, ponds, and growing collection of native and exotic plants. A new gazebo and outdoor amphitheater are recent additions to the gardens. Admission to the garden is free.
Hunting
If you're looking to tag a big buck this season, then Coshocton County, Ohio just might be where you'll find him. Woodbury Wildlife Area in Coshocton County is the largest public hunting and fishing area in Ohio. Their nearly 20,000 acres is operated by the Ohio Department of Natural Resources specifically for wildlife recreation. Other public hunting property in the area includes AEP's Conesville Coal Lands, Mohawk Dry Reservoir, Simco Wildlife Area and Woodbury Wildlife Area. Together Coshocton's wildlife areas offer over 50,000 acres of public hunting ground. That's exactly why Coshocton, Ohio has become very well known to deer hunters throughout the United States. The county always ranks in the top three, and often times number one, in terms of deer kills in the state. Coshocton County reported the most deer harvested in Ohio for the last three consecutive (2012-2015) hunting seasons (ODNR Press Release). Ohio Hunting and Trapping Regulations | Ohio Hunting and Trapping Season Dates & Bag Limits